Hot and delicious Chicken Broccoli Soba Soup. Perfect for a quick and healthy, nutritious meal.
Chicken Broccoli Soba Soup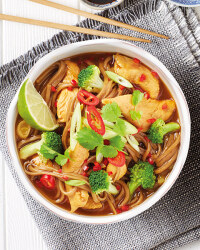 Recipe Information
Ingredients
300g Chicken Breast
150g Broccoli
2 bundles (170g) Soba Noodles
1 litre boiling water
2 Chicken Stock Cubes
1 x 120g sachet Asia Hoisin and Garlic Sauce
50ml dark Soy Sauce
7g piece Fresh Red Chilli
15g piece of Fresh Ginger
100g Spring Onions
Method
Peel and finely chop the ginger.
Finely chop the chilli along with the seeds.
Slice the chicken breasts in half lengthways – then slice thinly.
Put the boiling water into a large saucepan and crumble over the stock cubes.
Add the hoisin and garlic sauce, the chicken, soy sauce, chilli and the ginger.
Bring to the boil and simmer for 10 minutes.
Wash the spring onions and slice thinly on the diagonal.
Cut the broccoli into small florets.
Add them both to the soup along with the noodles.
Bring back to the boil and cook for 4-5 minutes.
Serve piping hot.