Authentic Greek gyros filled with chicken, tzatziki and fresh salad.
Chicken Gyros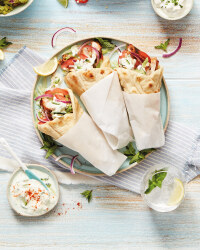 Recipe Information
Ingredients
8 Chicken Thigh Fillets
1 tbsp Olive Oil
¼ head of Iceberg Lettuce, shredded
½ Red Onion, thinly sliced
2 Salad Tomatoes, sliced
4 White Folded Flat Bread
Marinade
2 Garlic Cloves, finely chopped
30ml Lemon Juice
30ml Olive Oil
1 tbsp Freshly Chopped Mint
2 tsp Dried Oregano
1 tsp Ground Cumin
1 tsp Paprika
½ tsp Ground Cinnamon
Tzatziki
200g Greek Style Yogurt
½ Cucumber
1 Garlic Clove
15ml Lemon Juice
15ml Olive Oil
¼ tsp Salt
¼ tsp Pepper
¼ tsp Paprika
Method
Place all the ingredients for the marinade into a bowl, add the chicken thighs then leave to marinate for at least 3 hours, or preferably overnight.
Prepare the tzatziki by removing the seeds from the cucumber, then grating.
Combine the grated cucumber with all the other ingredients, then leave in the fridge until needed.
Heat a heavy-bottomed pan, add the tablespoon of oil, then cook the chicken thighs for 8-10 minutes on each side until nicely browned/charred on the outside and cooked through.
While the chicken is cooking, prepare the salad and heat the pitta bread in a hot pan for 1 minute on each side.
When cooked, cut the chicken into slices and assemble the gyros by distributing the chicken and salad between the pitta breads, then drizzle with the tzatziki.