Cookie & Ice Cream Sandwiches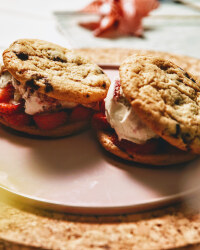 Recipe Information
Ingredients
350g Greenvale Chocolate Chip Cookie Dough
Specially Selected Strawberry Cheesecake Ice Cream
150g Strawberries (sliced)
Method
Preheat the oven to 180°C/gas mark 4.
Cut the cookie dough into 8 pieces, roll them it to balls and flatten slightly.
Bake on a grease proof paper lined tray for 12-15 minutes until golden then leave to cool.
When the cookies have cooled place a layer of strawberries on the base of 4 cookies and place a scoop of ice cream on top and then press another cookie on top to make 4 ice cream sandwiches.