Tasty wholemeal Frittata with fresh courgette and tomato.
Courgette & Tomato Frittata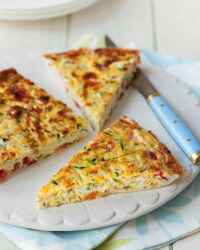 Recipe Information
Ingredients
2 tsp Vegetable Oil
1 Courgette, coarsely grated
2 Tomatoes, chopped
6 Eggs
2 tbsp 1% Fat or Semi Skimmed Milk
4 slices Wholemeal Bread
1 pinch ground Black Pepper
Method
Pre-heat the grill.
Heat the vegetable oil in a non-stick frying pan. Add the courgette and tomatoes and cook on the hob for 3-4 minutes, stirring often, until soft. Spread out over the base of the frying pan.
Beat the eggs and milk together and pour into the frying pan. Cook over a medium-low heat for 4-5 minutes to set the base, then transfer to the grill to set the surface – about 2-3 minutes. Remove from the heat and let the frittata cool for 3-4 minutes.
Toast the slices of bread. Slice the frittata into wedges and serve with the toast.