Crème de Cacao Choctail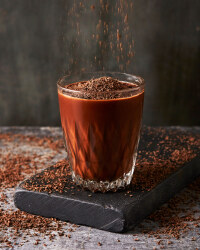 Recipe Information
Ingredients
25ml Tamova Vodka
60g Sugar
60g The Pantry Cocoa Powder
500ml Water
Method
In a small saucepan, boil 250ml water then remove from the heat and add the cocoa powder and sugar. Stir to dissolve and then add the remaining water.
Once cooled, add the vodka to the mixture and leave to infuse.
After the vodka has successfully infused, strain the liquid through a coffee filter to remove any fine particles and pour into a glass of your choice.