A peppery and creamy Italian pasta dish. Easy to make and even easier to enjoy!
Creamy Chicken and Bacon Pasta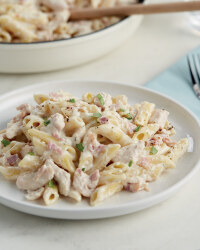 Recipe Information
Ingredients
1 x 750g Pack Chicken Thighs
1 x 250g Pack Ashfield Farm Smoked Streaky Bacon
A little Solesta Vegetable Oil
1 x 500g Pack Cucina Penne Pasta
1 x 200g Pack Delicious Soft Cheese with Garlic and Herbs
200ml Milk or Leftover White Wine
1 x dsp Stonemills Dried Parsley
Freshly Ground Black Pepper
Find your ingredients online on Click & Collect or find your nearest store using our Store Finder.
Method
Pull the skin off the chicken thighs, and with a small sharp knife take out the bones.
Cut the chicken meat into thin strips.
Cut the bacon into small pieces.
In a large wok or frying pan, heat a little oil and fry the chicken and bacon strips until golden brown, if you don't have a pan big enough do it in two lots, keeping the first lot warm in a low heat oven while you cook the next batch.
Meanwhile cook the pasta according to the instructions on the pack.
When all the chicken and bacon is cooked through, add the soft cheese, milk or wine and parsley to the pan, mix well and cook until all melted, season with plenty of black pepper.
Drain the pasta and mix it with chicken, bacon and sauce, stir well and serve.