Crispy and succulent sole fillet with a creamy potato and parsley mash.
Dusted Sole Fillet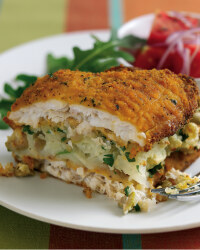 Recipe Information
Ingredients
2 tbsp olive oil
2 small onions, peeled and finely chopped
1.3kg raw potatoes
70g green olives, roughly chopped
Finely grated zest
1 large lemon
1 pot fresh parsley, roughly chopped
Salt
Coarse ground black pepper
4 Lightly Dusted Sole fillets (Lemon variety)
Find your ingredients online on Click & Collect or find your nearest store using our Store Finder.
Method
Pre-heat the oven to 180°C, Gas Mark 4.
Heat the oil and add the onions, and cook for 10 minutes to soften, let them take a little colour.
Boil the potatoes and mash with a masher, no need to add oil, butter or milk and keep warm.
Add the olives, cooked onions, zest of lemon, parsley and season well.
Place 2 fillets onto a non-stick baking tray, straight from the freezer.
Top generously with the mash olive mix, then place a second frozen fillet on top and press down.
Repeat with the second box of fish.
Place into the hot oven and cook for 20-25 minutes or until the fish is warmed through and hot.
Serve the fillets, either cut into 2 pieces or 4 single fillets, topped and baked.
Top tip: serve with a spoonful of mayonnaise and a tomato salad.