Colourful, tasty and adorably festive, these biscuits are a delightful way to celebrate Easter.
Easter Biscuits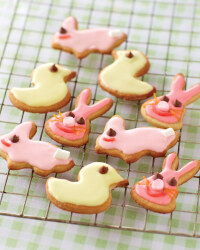 Recipe Information
Ingredients
190g Greenvale Unsalted Butter, softened
200g The Pantry Caster Sugar
2 large Merevale Free Range Egg Yolks
400g The Pantry Plain Flour
1 level tsp Stonemill Ground Cinnamon
Juice and grated zest of 1 Orange
For the Icing
250g Silver Spoon Icing Sugar
2 tsp The Pantry Lemon Juice
30ml Water Gel Food Colour
Method
Pre-heat the oven to 180°C/350°F/Gas Mark 4.
In a large bowl mix the butter and sugar together until light and fluffy, add the egg yolks, orange zest, juice and cinnamon then whisk well.
Add the flour and bring together into a soft dough.
Lightly grease 2 baking sheets.
Roll out to about 5mm thick and, using your favourite cutter, cut out the biscuits.
Put onto the baking tray and cook in the oven for about 12-15 minutes, until just lightly browned.
Allow to cool.
To make the icing
Mix the icing sugar with the lemon juice and water.
Mix well until smooth.
Colour as you want and spread over the biscuits.
Decorate with chocolate and sweets..