Beautiful banana cupcakes topped with buttercream icing sugar and banana slices.
Easy Banana Cupcakes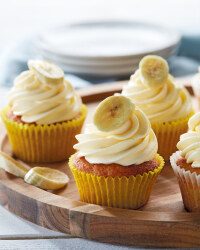 Recipe Information
Ingredients
125g Self Raising Flour
115g Caster Sugar
130g Cake Butter
1 x Large Egg, beaten
1 x Ripe Banana (the riper the better)
1 tbsp Milk
1 tsp Baking Powder
For the Buttercream:
150g Cake Butter
350g Icing Sugar
1 tbsp Milk
¼ tsp Madagascan Vanilla Extract
1 Banana, sliced to decorate
Method
Pre-heat the oven to 160°C/Gas Mark 4 and line your cupcake tray with 12 cupcake cases.
Beat together the butter and sugar until pale and fluffy.
Mash the banana in bowl until liquid consistency and set aside.
Beat the egg into the cake mixture then gradually fold in the flour, carefully using a figure 8 motion to gently combine all the mixture.
When the flour has been added, pour in the liquid banana, baking powder and 1 tablespoon of milk.
Divide the mixture evenly into all the cupcake cases.
Place the baking tray on the middle shelf for approx. 20 minutes until golden in colour.
In the meantime, prepare the buttercream by whisking the butter in a bowl.
Add the vanilla essence, 1 tablespoon of milk and icing sugar and whisk until creamy.
Spoon into a piping bag, attach the nozzle and pop in the fridge to stiffen.
Remove the cakes and allow to cool.
Pipe on the buttercream and add sliced banana to decorate.