Spiced apple and winterberry gin cocktail made with sparkling water. Shaken not stirred.
Gin-Berry Sensation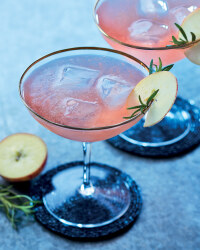 Recipe Information
Ingredients
70ml Spiced Apple & Winterberry Gin
1 tsp Bramwells Apple Sauce
Ice Cubes
30ml Sparkling Elderflower Water
Apple Peel and Rosemary to garnish
Method
Put the gin, apple sauce and ice in a cocktail shaker.
Shake well, strain and serve.
Top with cold sparkling elderflower water, apple peel and rosemary.