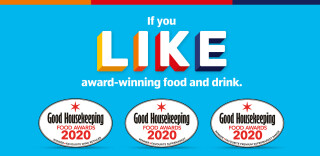 3 amazing wins
We can't say thank you enough for the 3 amazing wins at this year's prestigious GH Food Awards. Not only have we been voted Favourite Supermarket Retailer for the second year running by you the British public, you also voted us Favourite Premium Supermarket Range and Favourite Wine Retailer. So, excuse us if we're feeling top of the shops.
"We're delighted to have picked up an incredible three trophies at the 2020 Good Housekeeping Food Awards. Being voted the UK's Favourite Supermarket and Favourite Wine Retailer for the second year in a row is a real testament to the team's hard work, and we're also very proud that Specially Selected was named as Favourite Premium Supermarket Range. It's great to see that our customers recognise our commitment to high quality products at amazing prices."
- Julie Ashfield, Managing Director of Corporate Buying at Aldi
Favourite Supermarket
Quality and value are always a win-win with customers. That's why Aldi has been voted Favourite supermarket at the GH Food Awards for the second year running by you, the British customers.
Favourite Wine Retailer
Our world-class selection of wines is a worthy winner for a nation of wine lovers. While we'll sip and savour this award, you can shop our amazing range of wines in store and online today.
Favourite Premium Supermarket Range
When it comes to quality, flavour and incredible value, our Specially Selected products are hard to beat. From a hand-stretched sourdough pizza to a 30-day matured Aberdeen Angus Steak, treat yourself to something from our award-winning range.