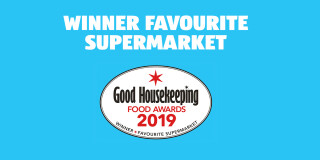 Voted Favourite Supermarket
We have been named Favourite Supermarket Retailer at the customer-voted GH Food Awards. This result marks the second time this year we have been named Favourite Supermarket, following our success at the Retail Week Awards in March.
"We're delighted to have been voted Favourite Supermarket and Wine Retailer at the GH Food Awards. To have this decided by the British public is a real testament to the hard work we put in to provide our customers with a fantastic shopping experience."
"Above everything, we're committed to providing customers with high quality products at amazing prices and it's great to see this resonating with our shoppers."
- Julie Ashfield, Managing Director of Corporate Buying at Aldi
Winning Wines
We have also been crowned Favourite Wine Retailer at the Good Housekeeping Food Awards! So why not see what all the fuss is about and try some of our Award-winning wines and tipples for yourself?