Try our oven-baked battered fish with homemade chips for a truly British family meal.
Homemade Healthy Fish & Chips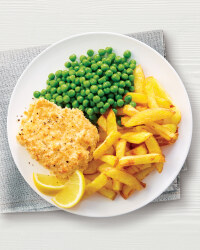 Recipe Information
Ingredients
2 x packs 250g Cod Loin Fillets
2 tbsp Plain Flour
4 x slices of White Bread
2 x Eggs, beaten
4 x Maris Piper Potatoes (around 600g)
2 tbsp Extra Virgin Olive Oil
250g Garden Peas
Juice of ½ a Lemon
Salt & Pepper
Method
Heat the oven to 200°C/180°C Fan/Gas Mark 6.
Slice the potatoes into chips, then boil for 5 minutes. Drain the water from the pan and leave the potatoes to cool. Once cool, place on a baking tray and coat with the olive oil.
Toast 4 slices of bread. Once toasted, grate the slices into a bowl using a cheese grater.
Season the flour with a dash of salt and pepper, then roll the cod fillets in the flour until covered. Pat off any excess. Dip the cod fillets into the beaten eggs, ensuring to coat evenly.
Place the fillets into the bowl of breadcrumbs and lightly toss so that they become totally covered. Lift out gently and then place onto a lightly oiled baking tray.
Bake both the cod and the chips in the oven for 25 minutes, until the fish is cooked and the chips are lightly browned. Boil the garden peas for 3 minutes.
Plate the breaded fish fillets alongside the chips and peas, with a squeeze of lemon and dash of pepper to serve.