The perfect British fakeaway – Homemade Healthy Fish and Chips.
Homemade Healthy Fish & Chips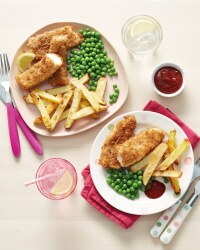 Recipe Information
Ingredients
2 Cod Loin Fillets
1 egg (beaten)
3 tbsp Plain Flour
2 Slices of Brown Bread
4 Potatoes (around 600g)
1tbsp Rapeseed oil
250g Garden Peas
Method
1. Heat the oven to 200C/180 fan/Gas mark 6.
2. Use a food processor to blitz the slices of bread into breadcrumbs.
3. Cut each cod fillet into 4 to create 8 'fingers'.
4. Slice the potatoes into chips and boil for 5 minutes.
5. Leave the potatoes to cool and then coat with the rapeseed oil.
6. Roll the cod fingers in the flour then the beaten egg and finally the bread crumbs and then bake, with the chips, for 20-25 minutes until the fish is cooked and the breadcrumbs are crisp.
7. Boil the peas for 3 minutes and serve with the fish fingers and chips.