A classic French, deliciously light recipe, simply iced and sprinkled with chocolate.
Iced Madeleines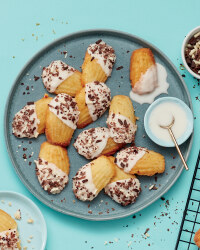 Recipe Information
Ingredients
Madeleines
165g Plain Flour
1 tsp Baking Powder
2 Eggs
75g Icing Sugar
Rind of 1 Lemon
1 tsp Lemon Juice
75g Butter, melted (plus a little extra to grease the tray)
Icing
250g Icing Sugar
4 tbsp Water
20g Dark Chocolate, grated
20g Milk Chocolate, grated
20g White Chocolate, grated
Method
Pre-heat the oven to 190°C/Fan 170°C/Gas Mark 5.
Lightly grease a 12-cavity madeleine tray.
Sift together the flour and baking powder.
In a separate bowl, beat together the eggs and icing sugar until ribbons form.
Fold in the lemon zest and juice.
Alternately fold the flour and melted butter into the egg mixture.
Leave to stand for 10 minutes.
Spoon the batter into the madeleine tin.
Tap the tray on the worktop to remove any bubbles before baking in the oven for 12 minutes.
Leave to cool on a wire rack.
In a bowl, whisk together the icing sugar and water, adding a little extra water if the icing is too thick.
Dip the madeleines into the bowl of icing.
Place on a wire rack or tray and cover sprinkle with the grated dark, milk and white chocolate.
Store in an airtight container until serving.