Festive roasted carrots seasoned with a maple syrup, pine nut and garlic marinade.
Juggling Carrots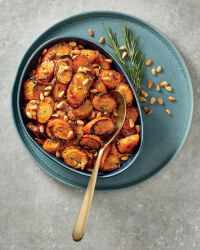 Recipe Information
Ingredients
1kg Carrots
50ml Maple Syrup
50ml Olive Oil
5g Fresh Rosemary
75g Pine Nuts
3 Garlic Cloves
Sea Salt
Ground Black Pepper
Method
Pre-heat the oven to 200°C/400°F/Gas Mark 6.
Peel, trim and cut the carrots into thick slices on the diagonal.
Peel and mince the garlic.
Mix the maple syrup, garlic and olive oil together in a bowl, and season with salt and pepper.
Add the carrot slices and mix well.
Pour the carrots onto a large flat baking sheet.
Roast in the oven for 25 minutes.
Chop the rosemary.
Take the carrots out of the oven, sprinkle the chopped rosemary and the pine nuts over.
Put back in the oven for another 5 minutes and serve.