Korean Pancake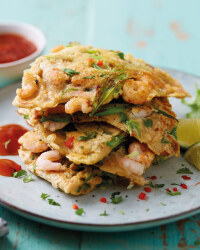 Recipe Information
Ingredients
1 bunch Spring Onions
150g pack Cold Water
Cooked and Peeled Prawns
6g Fresh Coriander
Plum Asian Sauce
Sunflower Oil 240g
Plain Flour 375ml
Cold Water
2 Medium Eggs
1 tsp Salt
½ tsp Garlic Granules
½ tsp Chilli Powder
½ tsp Ground Black Pepper
Method
Drain the prawns well and pat dry with some kitchen paper.
Trim the spring onions and wipe – then slice into thin strips.
Chop the coriander then mix together with the spring onions and prawns.
To make the batter whisk the eggs and water together.
Put the flour, garlic, chilli powder, salt and black pepper into a bowl and add the egg water and mix to a soft dough – don't worry if there are some lumps.
Heat some oil in a non-stick frying pan, ladle in a quarter of the pancake mixture, sprinkle over a quarter of the prawn mixture and gently push into the batter.
Cook for a few minutes until the bottom of the pancake is golden, then flip and cook the other side. Keep warm while you make the rest.
Serve cut into quarters and serve alongside Plum Asian sauce to dip.