These lemon curd pancakes are so easy to prepare - and they look almost as good as they taste!
Lacy Pancakes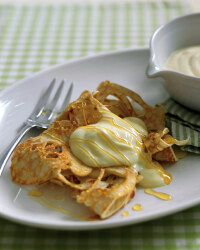 Recipe Information
Ingredients
2 Medium Eggs
Pinch Caster Sugar
Pinch Salt
100g Plain Flour
150-200ml Semi-Skimmed Milk, approx.
25g Melted Unsalted Butter
2 tbsp Vegetable Oil
2 150g Tubs Aldi Lemon Curd Yogurt
Icing Sugar
Squeezy Honey
Find your ingredients online on Click & Collect or find your nearest store using our Store Finder.
Method
Break the eggs into a bowl and add the caster sugar, salt and flour, whisk well.
Then add ¾ of the milk until you have a thick batter, add more milk if needed, the batter should be the consistency of thick double cream.
Add the melted butter and whisk in.
Heat a non-stick frying pan with a tablespoon of vegetable oil, until slightly smoking. Using a tablespoon, spoon the mixture around the pan, then backwards and forwards to make a web pattern.
Cook over a high heat until nicely browned, flip over and brown on the other side.
Lift out and cool on greaseproof paper. Repeat the process, until all the mixture is used up.
Fold the pancakes into 4, leave fairly open.
Spoon over a little yogurt, then top with another pancake, top with more yogurt. Drizzle with honey and dust with icing sugar, then serve.
Top Tips
For that added citrus tang, why not squeeze the juice of a lovely fresh orange over your stacked pancakes.
A mixture of ice cream and yogurt also works really well.
The hotter the frying pan the better.
The mixture will keep well in a fridge.
This recipe also makes normal pancakes.
Great for kids' tea parties, very simple and quick to do, and can be made well in advance.