This delicious citrus cheesecake is sure to be a popular dessert at any dinner party.
Lemon and Vanilla Ginger Cheesecake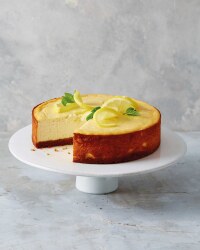 Recipe Information
Ingredients
2 Large Lemons
900g Soft Cheese
200ml Soured Cream
225g Ginger Nuts Biscuits
90g Butter
3 Medium Eggs
1 Egg Yolk
50g Plain Flour
200g Caster Sugar
20cm Springform Tin
Method
Preheat the oven to 180c/350f/gas 4.
Grate and juice the lemons.
In a bowl, add the lemon juice and rind, with the sugar and beat well.
Beat the eggs and add to the mix.
Beat in the soured cream, flour and the soft cheese.
Make crumbs with the ginger nut biscuits.
Melt the butter and stir in the ginger crumbs.
Line the base of the tin with some non-stick paper.
Then press the ginger crumbs into the base of the tin.
Pour in the lemon mixture.
Bake in the oven for 45/50 mins till just set.