This meat-rich dinner idea is a staple of the American family mealtime.
Meatloaf Dinner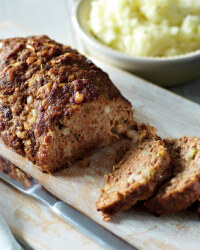 Recipe Information
Ingredients
250g Ashfield Mince Beef
½ Small Onion - finely chopped
½ Stick Celery - finely chopped
1x Egg - beaten
30g Breadcrumbs - made from leftover bread
½ tsp Stonemill Mixed Herbs
2x tbspn Bramwells Tomato Ketchup
75ml Milk
Salt and Black Pepper
For the mashed potatoes
2 x Medium Potatoes – about 300g
20g Butter
75ml Milk
Salt
75g Garden Peas
Method
Preheat the oven to 200°/400°F/Gas Mark 6.
Mix all the ingredients for the meatloaf together.
Form into the shape of a small oblong.
Put onto some foil on a baking tray – bake in the oven for 40mins.
Meanwhile peel the potatoes, cut them into medium pieces and cook them in salted water for 12 mins.
Drain and add the butter and milk – mash well.
Cook the peas in some salted water till warmed through – drain.
Serve the meatloaf with the mashed potato and peas.
Any leftover meatloaf makes great sandwiches!