Cute, right? And they work amazingly to top cupcakes or mugs of hot chocolate.
Mini Gingerbread House Mug Topper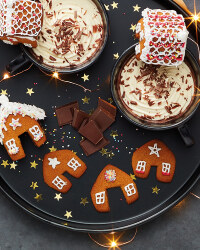 Recipe Information
Ingredients
150g Demerara Sugar
150g Golden Syrup
100g Unsalted Butter
340g Plain Flour
2 tsp Baking Powder
2 tsp Ground Ginger
1 tsp Ground Cinnamon
1 Egg White
200g Icing Sugar
Sprinkles
Red Food Colouring
Method
Gently heat the sugar, butter and syrup in a saucepan until melted and combined. Mix the flour, baking powder, ginger and cinnamon in a mixing bowl. Carefully pour the melted sugar and butter mixture into the mixing bowl and stir until fully combined. Leave until cool enough to touch safely, then roll out the biscuit dough between 2 sheets of greaseproof paper (about 3mm thick). Leave to cool in the fridge for an hour.
Make a template for a mini gingerbread house (remember to add a doorway on the front and back so they can sit on the cup). Pre-heat the oven to 170°C/Gas Mark 3. Use the template to cut out the pieces from the gingerbread dough. Bake in batches for 8-10 minutes until golden and then leave to cool.
Make the royal icing by whisking together the egg white and icing sugar until thick and smooth. Use the red food colouring to make some of the icing red. Build the gingerbread houses by piping some royal icing along the edges to stick the pieces together. Decorate by piping the red and white icing and topping with sprinkles. Serve on a mug with hot chocolate.