Brandy mulled wine recipe with zesty orange rind, sugar and mixed spice.
Mulled Wine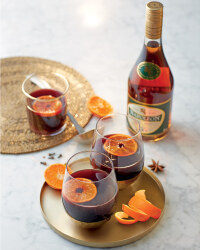 Recipe Information
Ingredients
150ml Napoleon Brandy
75cl bottle Red Wine (Shiraz works well)
2 large Oranges
35g Demerara Sugar
1 heaped tsp Mixed Spice
Method
Cut the rind from the oranges, removing any white pith.
Juice the oranges.
Put the orange juice and rind, and all the other ingredients into a medium sized pan and gently heat to melt the sugar.
Simmer for 15 minutes and serve with an orange slice.