Brandy mulled wine recipe with zesty orange rind, sugar and mixed spice.
Mulled Wine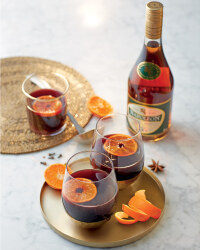 Recipe Information
Ingredients
150ml Napoleon Brandy
75cl bottle Red Wine (Shiraz works well)
2 large Oranges
35g Demerara Sugar
1 heaped tsp Mixed Spice
Find your ingredients online on Click & Collect or find your nearest store using our Store Finder.
Method
Cut the rind from the oranges, removing any white pith.
Juice the oranges.
Put the orange juice and rind, and all the other ingredients into a medium sized pan and gently heat to melt the sugar.
Simmer for 15 minutes and serve with an orange slice.