Italian roasted leg of lamb rubbed with pesto, wrapped in pancetta.
Pancetta Wrapped Lamb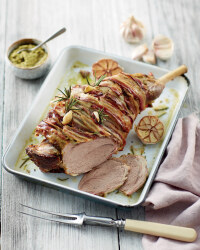 Recipe Information
Ingredients
1 x Leg of Lamb
1 x 80g pack Smoked Pancetta
60g Pesto
6 x Sprigs of Rosemary
2 x Garlic Bulbs
500ml Water
1 x Vegetable Stock Cube
Sea Salt and Black Pepper
Method
Preheat the oven to 190c/375f/gas 4.
Cut the bulbs of garlic into halves. Pull a few cloves off one of the halves and peel.
Rub the pesto over the lamb and season with some salt and pepper.
Cover the lamb with the strips of pancetta and cut 6 slashes through into the lamb. Stuff the slashes with the garlic cloves and sprigs of rosemary.
Put the lamb in a roasting tray and add the remaing garlic around it.
Dissolve the stock cube in the water and pour around the lamb.
Cover the lamb loosely with some tin foil and roast for 2 hours. After the 2 hours, remove the tin foil and roast for a further 30 mins.
Allow the lamb to rest covered for 30 mins before carving.
Use any juices to make some gravy.