A decadent variation of a classic dessert. Perfect for sharing.
Peanut Butter Brownies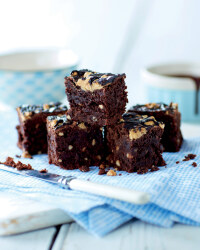 Recipe Information
Ingredients
225g Grandessa Crunchy Peanut Butter
200g Moser Roth 70% Dark Chocolate
280g The Pantry Soft Light Brown Sugar
3 Greenvale Medium Eggs
100g The Pantry Self Raising Flour
Find your ingredients online on Click & Collect or find your nearest store using our Store Finder.
Method
Pre-heat the oven to 180°C/350°F/Gas Mark 4.
Line a 20cm (8") square baking tin with baking parchment.
Put 50g of peanut butter in a small microwaveable dish and set aside.
Set 50g (2 blocks) of chocolate aside.
In a medium sized saucepan, gently melt the remaining peanut butter, the chocolate and sugar. Mix well.
Remove from the heat then beat in the eggs one at a time.
Stir in the flour.
Spoon the mixture into the tin.
Microwave the peanut butter until melted then drizzle over the mixture.
Bake in oven for around 30 minutes - it should have a crust but still be a little soft in the middle.
Microwave the reserved chocolate until melted then drizzle over the brownie.
Allow to cool in the tin then cut into 16 squares.