Tender beef, topped with Emmental cheese in a toasted roll. A classic party dish, straight out of the East Coast.
Philly Cheesesteak Sandwiches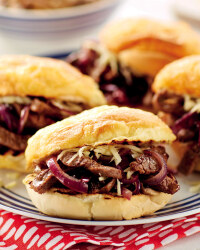 Recipe Information
Ingredients
2 packs x Everyday Essentials frying steak
2 tbsp x Olive oil
2 x Onions - red or white
200g x Mushrooms, sliced - optional
4 x Bread rolls
100g x Emmental cheese, grated
Method
For this recipe, the steak needs to be sliced very thinly.
This is best achieved if the steak is put in the freezer for an hour before slicing.
Remove the steak from the pack and with a sharp knife cut into thin slices.
Put all the steak into a bowl and toss with salt and pepper.
Thinly slice the onions and fry with 1 tbsp olive oil over a medium heat until the onions are caramelised.
Toast the rolls - optional but helps the bread hold up to the mass of filling!
Heat 1 tbsp of olive oil in a large frying pan until smoking hot.
Carefully scatter the steak slices and quick fry them for no longer than 5 minutes tossing regularly.
Remove the steak from the pan and add mushrooms to the juices in the pan, fry for 3-5 minutes.
Assemble the sandwiches with generous helpings of steak, onions and cheese.