Succulent pork steaks wrapped in parma ham and served with a tasty mixture of creamy vegetables.
Pork Loin Steaks and Prosciutto with Creamy Vegetables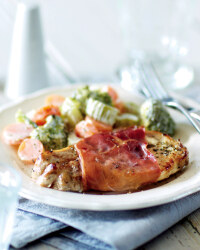 Recipe Information
Ingredients
2 x 300g packs Pork Loin Steaks
4 slices Parma Ham
150ml Chicken Stock
1 tsp Sage
4 Sticks Celery
350g Carrots
1 Head Broccoli – approx. 350g
200g pack Garlic and Herb Lighter Soft Cheese
Salt
Black Pepper
15g Butter
15g Olive Oil
Find your ingredients online on Click & Collect or find your nearest store using our Store Finder.
Method
Pre-heat oven to 200°C/400°F /Gas Mark 6.
Melt the butter and the oil in a frying pan, brown the loin steaks on both sides, remove from the oil and put them into a baking dish.
Sprinkle over the sage, and season with some black pepper. Next, fold a piece of Parma ham over each loin, pour the stock or wine around them and roast in the oven for 15 mins.
Peel the carrots and slice thinly, wash the celery and slice into similar size pieces, and break the broccoli into florets. Cook the vegetables in some boiling salted water for 5 mins.
Drain well and then add the soft cheese to the pan on a low heat to melt the cheese.
Take the pork out of the oven, put the cooking juices in with the vegetables and gently stir through. Serve the pork alongside the creamy vegetables