Soft homemade pumpkin bread loaf, perfect for desserts and suitable for vegetarians.
Pumpkin Loaf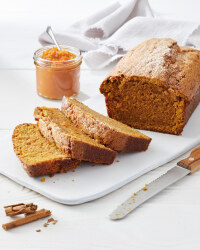 Recipe Information
Ingredients
200g Pumpkin puree - roughly half a pumpkin
150g Plain flour
1/4tsp Salt
2tsp Baking Powder
3/4tsp Ground Cinnamon
1tsp Ground Ginger
200g Caster Sugar
100g Unsalted Butter - softened
2 Eggs
Method
Preheat the oven to 180˚C.
Make the pumpkin puree by cutting the pumpkin in to wedges with the skin still on.
Make a foil envelope and bake the pumpkin in it for roughly an hour until cooked, ensuring the pumpkin doesn't colour.
Once cooked, scrape away from the skin and blend.
Turn the oven down to 160˚C.
Line a loaf tin with baking paper.
Mix all the dry ingredients apart from the sugar in a bowl and set aside.
In a separate bowl cream the sugar and butter until light.
Slowly add the two eggs to the butter-sugar mix and beat well until very light.
Beat in the dry ingredients to create the batter, then add the pumpkin.
Pour in to the loaf tin and cook for one hour.
Check it is cooked with a skewer.
When cooked, remove from the oven, allow to cool for 10 minutes then remove from the tin. Allow to cool further on a rack.