With fresh avocado, fluffy basmati rice and tangy horseradish, this dish is as tasty as it is healthy.
Quick Cooked Egg Fried Rice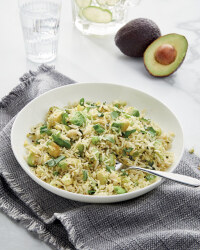 Recipe Information
Ingredients
4 tbsp Extra Virgin Olive Oil
2 large eggs, beaten
4 x 115g Microwaveable Basmati Rice
2 Ripe Avocados, cubed
2 Fresh Basil Pots, chopped roughly
6 Salad Onions, sliced diagonally
Salt and Pepper
2 tbsp Horseradish
Find your ingredients online on Click & Collect or find your nearest store using our Store Finder.
Method
Heat the oil in a wok.
Add the beaten eggs and cook until very dry, stirring all the time.
Add the warmed rice and really mix well.
Add the cubed avocado, chopped basil and salad onions.
Season well with salt and pepper, then add the horseradish, again mix well.
Serve in deep bowls.