A healthy, simple-to-make chocolate recipe. Cacao was known to the Aztecs as 'food of the Gods' and is packed with antioxidants for a feel-good, guilt-free treat!
Raw Cacao Bites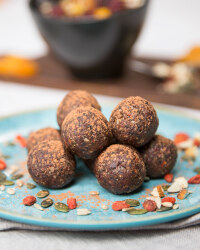 Recipe Information
Ingredients
100g Dried Apricots
100g Dried Berry Mix
1 x 70g pack Rainforest Bounty Mix
10g Cacao Powder
Method
Chop the dried apricots into small chunks.
Chop any of the bigger nuts in the bounty mix.
Put the apricots, berry mix and bounty mix into a liquidiser and pulse to a sticky mass.
Put into a bowl and add the cacao powder.
With your hands, mix well.
Divide into 10, approx. 25g each.
Roll them into balls between your palms – this will be messy.
Put onto a plate and refrigerate for 1 hour.