An authentic, tangy salsa verde. Fresh, healthy and so simple to make, it's packed with parsley, basil, gherkins, chilli, spring onions, garlic.
Salsa Verde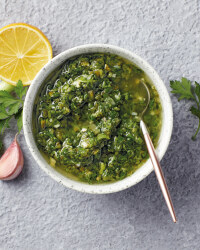 Recipe Information
Ingredients
1 x 32g pack Flat Leaf Parsley
10g Fresh Basil Leaves
40g Gherkins
6g Green Chilli
2 Spring Onions
2 Cloves Garlic
Lemon
150ml Olive Oil
Sea Salt
Method
Peel and finely chop the garlic.
Finely chop the gherkins, chilli, spring onions, parsley and basil leaves.
Mix them all together in a bowl with the olive oil and lemon juice.
Season with some salt and mix well.
Put in the fridge for an hour to let the flavours develop.