Vodka cocktail with tomato juice, hot sauce and horseradish.
Santa and Spice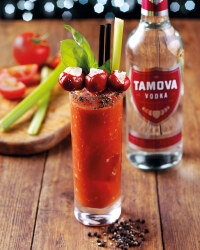 Recipe Information
Ingredients
50ml Tamova Vodka
100ml tomato juice
100ml The Pantry lemon juice
Pinch of cracked black pepper
2 dash Fiesta Peri Peri
1 dash The Pantry lime juice
1 dash Bramwells horseradish sauce
Method
Methodology
1. Add all ingredients to a mixing jug and stir over ice until cold
2. Take a tall Collins glass filled with cubed ice and add cracked black pepper to the rim
3. Pour in the mixed Bloody Mary and garnish
Decoration / to serve
Add cracked black pepper to the rim of the glass and garnish with a stuffed bell pepper, pickled gherkin, and fresh basil
Tasting notes
Bringing together a delicious mixture of savoury ingredients, Bloody Mary is the ideal drink to serve with a Boxing Day brunch. The cocktail works well with a range of garnishes from 'Pigs in Blankets' to mozzarella and Parma ham or mini turkey sliders.