Our sausage chilli con carne recipe adds a delicious twist to a well-loved dish.
Sausage Chilli con Carne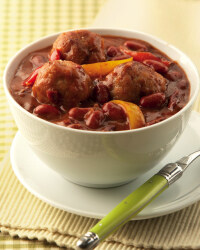 Recipe Information
Ingredients
1 x 454g pack Pork Sausages
2 tbsp 100% Pure Sunflower Oil
1 x 500g jar Chilli Cooking Sauce
½ jar Grilled Peppers – drained
2 dsp Caramelised Red Onion Chutney
200ml water
2 x Chicken Stock Cubes
1 x 410g tin Red Kidney Beans – drained
3 x 125g sachets
Easy Cook Boil-in-the-Bag Long Grain Rice
Find your ingredients online on Click & Collect or find your nearest store using our Store Finder.
Method
With a sharp knife slit the sausages down the side and squeeze out the meat.
Make 12 meatballs with the sausage meat.
In a large frying pan, sauté the meatballs in the sunflower oil until browned.
Add the jar of chilli sauce, peppers, onion chutney, water and the stock cubes.
Then cook gently for 20 minutes.
Add the kidney beans to the pan and cook for another 5 minutes.
Serve with Bilash Long Grain Rice, cook as per pack instructions.