Shake things up with this smooth and intensely rich infusionist gin, bursting with aromatic cherry flavours. A new one for New Year.
Sloe Elderflower Gin Mojito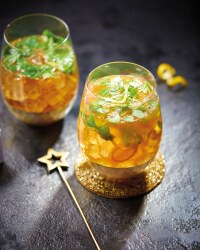 Recipe Information
Ingredients
A palm full of mint leaves (Approx 6/8)
20ml Lemon juice
20ml Sugar syrup
50ml Sloe and Elderflower Gin Liqueur
Crushed ice
Elderflower water
Garnish with
Mint Leaves
Method
Put the mint and sugar into a highball glass and mix well.
Pour in the Sloe and Elderflower Gin Liqueur
Top with elderflower water, lemon juice and crushed ice.
Garnish with mint leaves.