A fresh-tasting, no-cook Smoked Mackerel pâte. Perfect for a simple starter.
Smoked Mackerel Pate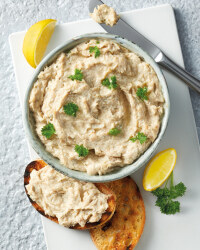 Recipe Information
Ingredients
1 x 200g Pack Smoked Mackerel Fillets
100g Soft Cheese
20ml Lemon Juice
30g Horseradish Sauce
60g Mayonnaise
1 x Tsp Dried Parsley
Method
Take the skin off the mackerel fillets and discard.
Break up the flesh and put into a food processor along with the rest of the ingredients.
Process till you have a smooth pate.
Put into a dish and chill for 30 minutes.