Hearty, spicy and wonderfully tasty, this pork chilli dish is a delicious dinner choice.
Spanish Pork Chilli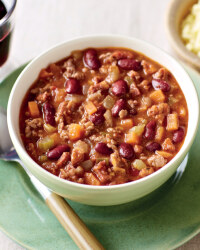 Recipe Information
Ingredients
500g Pork Mince
170g Sonetta Spicy Chorizo Ring
200g prepared chopped Carrots, approx. 2 medium Carrots
200g chopped Celery, about 4 stalks
200g prepared chopped Red Onions = about 2 medium Onions
3 cloves Garlic, peeled and finely chopped
400g tin Sweet Harvest Red Kidney Beans
400g tin Sweet Harvest Tinned Chopped Tomatoes with Herbs
1 Quixo Chicken Stock Cube
2 tsp Stonemill Chilli Powder
250ml Baron St Jean Red Wine
250ml Water
Black Pepper
120g The Cheese Emporium Mature Grated Cheddar Cheese
200g bag Snackrite Cool Tortilla Chips
A little Solesta Olive Oil
Find your ingredients online on Click & Collect or find your nearest store using our Store Finder.
Method
Heat some oil in a large saucepan, add the chopped onions and pork and lightly brown the meat, then add the chilli powder and garlic and stir well.
Meanwhile, chop the chorizo into small pieces, add to the pan then pour over the red wine, tinned tomatoes and water.
Crumble in the stock cube and bring to the boil.
Add the chopped celery and carrot, season with some black pepper and stir well.
Cover with a lid and simmer for 40 minutes, stirring occasionally.
Drain the red kidney beans and add to the chilli, cook another 5 minutes.
Serve the chilli in bowls alongside the grated cheese and tortilla chips.