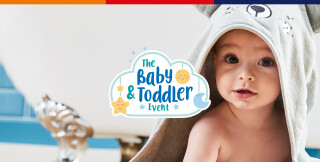 Amazing baby Specialbuys on sale now
It's always nice to get a helping hand when it comes to raising babies. That's why we stock an amazing range of Specialbuys just for babies and toddlers, so parents can pick up essentials like prams and furniture for a more affordable price. Take a look at what's on sale this week.
We're winning!
Thanks to you our amazing customers, and industry organisations, we've been awarded lots of amazing awards and accreditations over the years such as Supermarket of the Year, Best Online Retailer of the Year and Best Family Brand to name a few. We really appreciate every single one and hope they keep on coming!
Loved By Parents
Supermarket of the Year

Platinum 2021

Loved By Parents
Best Online Retailer

Platinum 2021

Loved By Parents
Best Family Brand

Platinum 2021

Loved By Parents
Tried & Tested 2021

Recommended
Baby Furniture
Rock-a-bye baby. From beautiful bedside cribs to quality cot beds and changing units, we have everything you need to create the perfect space at a great price.
Baby Toys
If they're happy and you know it… Keep the little ones entertained with interactive play gyms, fun bouncers and engaging baby toys... all at little Aldi prices.
Baby Clothes
Get our little one super comfy with great value range of jumpsuits, vests, tops and socks. Everything you need to keep them feeling fresh and clean.
Baby Travel
Take little ones out and about with confidence thanks to our comfy, ergonomic range of travel equipment. From travel systems and baby wraps to go bags and more.
Shop more of your favourite Specialbuys ranges

Discover a whole range of amazing things with incredibly small prices.