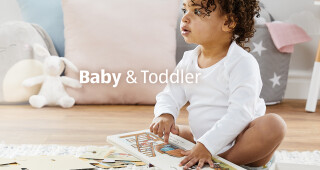 Specialbuys for your little ones
You can now save a lot on your little one with these Specialbuys. Here you'll find everything your little bundle of joy will go gaga for, from strollers to bodysuits to high chairs, we've got the lot. And because they're from Aldi, you know the cost has been taken care of too. Amazing prices for amazing parents.
Baby Carrier
Carry your baby facing in or out with this easy-to-use baby carrier. It features a removable front section and adjustable, sturdy support for their head and neck. Suitable from birth up to 12 months.
Stroller
Wherever you're going, take your little one with you. This lightweight but tough stroller means they'll always be comfortable when you're out and about. And because it's easily foldable, storage is a walk in the park too.
SOLD OUT ONLINE
Baby Safety Gate
Peace of mind is a piece of cake with this Baby Safety Gate. It fits effortlessly between walls and doorframes, so you can let your little one wander without worries. And because it requires no drilling or bolting, installation is child's play too.
SOLD OUT ONLINE
Help with weaning
It can be a tricky time for both parents and baby, but we're here to help you through the weaning process with helpful advice and all the accessories you need. Take a look at our handy tips on weaning.
Be the first to know about our next event
Our famous Baby & Toddler Events take place several times a year, with fantastic Specialbuy prices on a wide range of products. Sign up to our newsletter now to make sure you don't miss the next one. You'll also be able to buy many of the Specialbuys online, a week before they go on sale in stores.