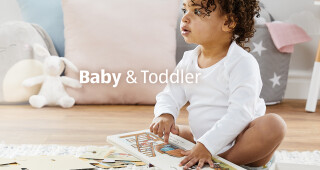 Specialbuys for your little ones
You can now save a lot on your little one with these Specialbuys. Here you'll find everything your little bundle of joy will go gaga for, from strollers to bodysuits to high chairs, we've got the lot. And because they're from Aldi, you know the cost has been taken care of too. Amazing prices for amazing parents.
Rock-a-bye baby
This padded MyBabile cot is more than just a bedside crib. Perfect for babies under 6 months (approx 9kg) it's washable, transportable and can adjust to the height of most beds. It also inclines to help alleviate congestion. Approx. 93 x 69 x 66/81cm
Bless their cotton socks...
They will be as snug as a bug once they are curled up in this cosy 2.5 tog baby sleeping bag. Perfect for chilly nights this 100% cotton cover comes in 5 fun designs. Choose from 50-65cm, 65-80cm or 80-95cm.
Sweet dreams
We have everything your little one needs to snuggle down in comfort at night. Including this colourful soft touch duvet cover and pillowcase to brighten up your toddler's bed. All 100% cotton and machine washable.
Help with weaning
It can be a tricky time for both parents and baby, but we're here to help you through the weaning process with helpful advice and all the accessories you need. Take a look at our handy tips on weaning.
Be the first to know about our next event
Our famous Baby & Toddler Events take place several times a year, with fantastic Specialbuy prices on a wide range of products. Sign up to our newsletter now to make sure you don't miss the next one. You'll also be able to buy many of the Specialbuys online, a week before they go on sale in stores.