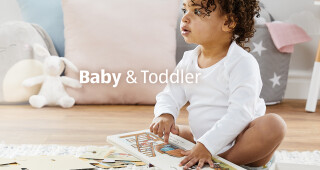 Specialbuys for your little ones
You can now save a lot on your little one with these Specialbuys. Here you'll find everything your little bundle of joy will go gaga for, from strollers to bodysuits to high chairs, we've got the lot. And because they're from Aldi, you know the cost has been taken care of too. Amazing prices for amazing parents.
My Babiie Ultra Light Stroller
Wherever you're going, take your little one with you. This lightweight but tough stroller means they'll always be comfortable when you're out and about. And because it's easily foldable, storage is a walk in the park too.
Baby Sleepsuits
3 pack of 100% Organic Cotton Baby Sleepsuits suitable for newborns and babies up to 18 months. The 3 attractive designs feature a full popper opening for easy dressing, with quality nickel-free YKK popper fasteners for added security.
Changing Unit
This easy assembly Nursery Changing Unit includes a cupboard with magnetic seal doors, removable changing tray and 2 drawers. It comes with all fittings including a wall attachment for added security. Approx. 83 x 48 x 95cm, it weighs approx. 33kg.
Moses Basket/Stand
Ideal as a starter bed, this handmade Moses basket has a Mattress with washable cover, adjustable Canopy, Padded Liner and Embroidered Quilt. It has a solid pine stand for stability, and folds away for storage. Suitable for babies up to approx. 9kg.
Nuby Baby Walker
A 3 stage walker that will grow with your baby! The height of its handle adjusts so baby can sit and play at 6+ months, stand and play at 9+ months, and walk from ages 12-36 months. For added fun it has buttons for sounds, melodies and lights.
Help with weaning
It can be a tricky time for both parents and baby, but we're here to help you through the weaning process with helpful advice and all the accessories you need. Take a look at our handy tips on weaning.
Be the first to know about our next event
Our famous Baby & Toddler Events take place several times a year, with fantastic Specialbuy prices on a wide range of products. Sign up to our newsletter now to make sure you don't miss the next one. You'll also be able to buy many of the Specialbuys online, a week before they go on sale in stores.