Show stopping Strawberry Layer Cake with buttercream filling and white chocolate icing.
Strawberry Layer Cake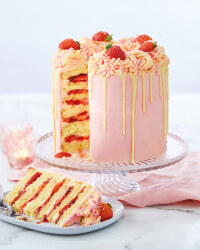 Recipe Information
Ingredients
340g The Pantry Self Raising Flour
340g The Pantry Caster Sugar
300g Cowbelle Unsalted Butter, softened
3 tbsp Vegetable Oil
6 x medium Eggs
2 tsp The Pantry Baking Powder
2 tsp The Pantry Vanilla Extract
½ tsp Salt
Buttercream Frosting
1.5kg The Pantry Icing Sugar
750g Unsalted Butter, softened
1 tsp The Pantry Vanilla Extract
3 tbsp Milk
½ tsp Salt
3-4 drops Pink Food Colouring
To Assemble and Decorate
200g Choceur White Chocolate
300g Specially Selected Strawberry Conserve
400g Strawberries, sliced, plus extra to decorate
The Pantry Sprinkles
Baking
3 x 20cm sandwich tins – if you want a taller cake, use smaller tins and increase the bake time.
Method
Pre-heat the oven to 190°C/170°C Fan/Gas Mark 5 and grease and line 3 x 20cm sandwich tins.
Place all of the ingredients for the cake into a large bowl and beat with an electric hand mixer until smooth.
Spoon the cake mixture evenly between the 3 tins and bake the cakes for 18 to 20 minutes, or until a cocktail stick comes out clean. Leave the cakes to cool for 10 minutes until easier to handle and then turn them out of the tins and leave to cool. When cold, carefully slice the cakes in half using a bread knife, to create 6 even layers.
Make the buttercream by beating the butter, icing sugar, vanilla extract, salt and milk together using an electric mixer or stand mixer until light, smooth and fluffy.
Place the first cake on a turntable and spread over a layer of buttercream, then top with strawberry jam and a few fresh strawberries. Place the next cake on top and repeat until all 6 cakes are stacked. Then do a thin smooth coating of buttercream all over the cake and leave to chill for 30 minutes.
Hold back a few spoonfuls of the buttercream and then add a few drops of pink food colouring to the remainder and mix. Ensure that the cake is level and then place some of the pink buttercream on the top of the cake, spread over the top and gradually smooth down the sides to cover the cake in a thin coating of the buttercream. Leave the cake in the fridge to chill for half an hour.
Gradually melt the white chocolate in a microwave and then pour onto the top of the cake, allowing it to drip down the sides. Place the remaining pink and white buttercream into a piping bag, fitted with a star nozzle, and then pipe some swirls of buttercream on top of the cake.
Finish off the cake with fresh strawberries and sprinkles. Store the cake in the fridge and remove it a few hours before eating so that the cake can get to room temperature.