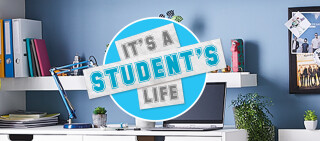 Student Living Essentials
Live your best uni life with our amazing student essentials. With great value bedding, top tech gadgets and brilliant kitchen appliances, we'll show you how easy it is to kit out your new home without burning through your budget. Get everything online from 1 September and instore from 5 September.
Take a cooking class in the Taste Kitchen
Watch our Taste Kitchen videos and you'll be amazed at how easy it is to make delicious meals for less. There's plenty to discover but start with our Fakeaway Chicken Cashew Curry and our delicious Fakeaway Pizza.
6 tips to eat well at uni this term
There's a meal for every student moment and we have them all. Whether you're looking for a morning boost, a mid-study snack or a big meal the whole house can share, try these tasty inspirations.
Amazing student meals made easy
There's no need to miss out on amazing meals just because you're a student. Our cookbook is full of delicious food ideas that are easy and cheap to make. Try these tonight or explore our full list and see what you like.