Succulent chicken topped with delicious blue cheese and baked to perfection.
Stuffed Baked Chicken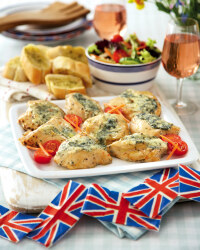 Recipe Information
Ingredients
2 x 320g packs BBQ marinated chicken breasts
1 x 150g The Cheese Emporium Danish Blue cheese
2 x 250g Country Fresh salad bowls
1 x 338g packet San Carlo garlic bread
1 x bottle sparkling rosé
Method
Pre-heat the oven to 200°c/400°F/Gas Mark 6.
Defrost the chicken for four hours.
Grate the cheese.
Cut a slit in the chicken breasts pieces along the top, fill with the grated cheese.
Place on a baking tray and bake in the oven for 20 minutes.
After 10 minutes cooking, put in the garlic breads.
Serve the breasts with the garlic bread, alongside the salad bowls and the chilled sparkling rosé wine.
Aldi Wine Matches
Looking for the perfect wine match for this recipe? See below for our dedicated recommendations:
Lot Series 07 Bushvine Chenin Blanc
Lot Series 05 Leyda Sauvignon Blanc 2014
Lot Series 12 Anjou Chenin Blanc 2013