Add something gincredible to your summer sips like this Summer Passion cocktail.
Summer Passion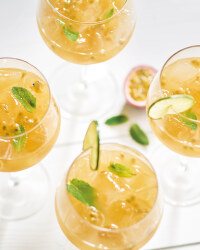 Recipe Information
Method
Juice the lime.
Mix the gin, liqueur and lime juice together.
Half fill two large gin glasses with ice and pour over the gin mixture.
Add a few mint leaves and stir through the ice.
Cut the passion fruit in half and with a teaspoon scrape out the seeds – divide between the two glasses.
Finally, top up the glasses with elderflower water and serve.