The asparagus adds some great texture to this cheesy tagliatelle dish - perfect for a weekday treat.
Tagliatelle with Asparagus and Mushrooms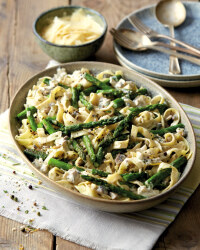 Recipe Information
Ingredients
400g Tagliatelle
2 x 100g packs Asparagus Tips
1 Medium Onion
150g Chestnut Mushrooms
200g Lighter Soft Cheese with Garlic and Herbs
150ml Single Cream
100ml White Wine
6g Fresh Parsley
40g Salted Butter
40g Parmigiano Reggiano
Salt
Black Pepper
20ml Extra Virgin Olive Oil
Find your ingredients online on Click & Collect or find your nearest store using our Store Finder.
Method
Peel and finely chop the onion.
Wipe the mushrooms and chop finely. Finely chop the parsley. Melt the butter in a wok or large frying pan and sauté the onions for a minute.
Add the chopped mushrooms then cook for another couple of minutes.
Add the soft cheese, single cream, white wine and chopped parsley. Season with some salt and pepper then cook on a low heat for a couple of minutes.
Meanwhile, cook the pasta in a large pan of boiling water for about 8/10 minutes as per directions on the pack.
Cut the asparagus in half and sauté them in the olive oil for 2/3 minutes.
Drain the pasta and add to the mushroom sauce, toss in the asparagus and gently heat through.
Serve with shavings of Parmigiano Reggiano.