Fun afternoon tea sandwiches stacked with a selection of toppings.
Tea Pop Sandwiches - The Fish One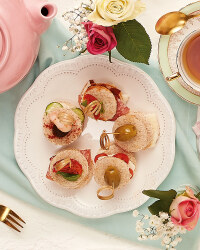 Recipe Information
Ingredients
6 x slices White or Wholemeal Bread
1 x 110g pack Salmon Flakes
40g Mayonnaise
4g Tomato Purée
6 x Jumbo Prawns
6 x Black Olives
2 x Baby Cucumbers, thinly sliced
Paprika
6 x Cocktail Sticks
1 x 6mm Pastry Cutter
Method
Mix the mayonnaise and tomato purée together.
Cut 3 rounds from a slice of bread.
Spread the tops with some mayo. Start with a round of bread, put 1/6 of the salmon on top, then another round of bread.
Top this with sliced cucumber, then the last round of bread, topped with a prawn and a black olive.
Sprinkle with some paprika and add a cocktail stick.
Other Tea Pop Sandwiches recipes:
Tea Pop Sandwiches - The Italian One