Fresh vegetable and rice burritos for healthy lunchboxes and family weeknight meals.
Vegetarian Burritos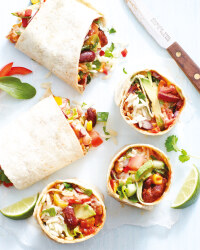 Recipe Information
Ingredients
400g Sweet Harvest Chunky Chopped Tomatoes
400g East End Red Kidney Beans (Drained and Rinsed)
200g Sweet Harvest Sweet Corn
1 Sachet Bramwells Chilli Con Carne Recipe Mix
1tsp Stonemill Chilli Flakes
250g Pack World Wide Foods Classic Long Grain Rice
1 Red Onion
1/2 Red, Yellow and Green Peppers
150g Baby Spinach Leaves
1 Avocado (sliced)
1 Baby Gem lettuce
1/3 Cucumber
3 Salad tomatoes
1 Red Chilli (de-seeded)
3 tbsp Olive Oil
1/2 lemon
2 limes
15g Fresh Coriander Leaves
6 The Village Bakery Wraps
200g The Deli Sour Cream and Chive Dip
Method
Slice the onion and peppers and fry for a couple of minutes in 1 tbsp of the oil.
Add the chilli con carne recipe mix and the chilli flakes for extra spice followed by the chopped tomatoes, sweetcorn and kidney beans with half a can of water and leave to simmer for 10 minutes then add the spinach leaves to the mix.
In the meantime make the salad by finely chopping the lettuce, cucumber, tomatoes and chilli and mix with the juice of 1 lime and 2 tbsp of oil.
Cook the rice as per pack instructions and stir through the juice of half a lime and half of the chopped coriander leaves.
Fill the wraps with a layer of the beans, rice, salad and top with the avocado, sour cream and the rest of the fresh coriander.
Fold over the edges then roll up the wraps to make the burritos and serve with fresh lime wedges.