Delightfully rustic homebaking idea. Goes down a treat on Sundays.
Walnut and Sultana Loaf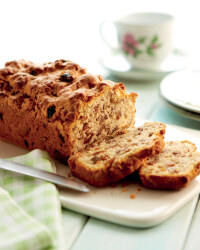 Recipe Information
Ingredients
225g The Pantry Self Raising Flour
125g Greenvale Perfect for Baking or Greenvale Unsalted Butter
125g The Pantry Caster Sugar
110g Sultanas
110g Walnut Pieces
2 x medium eggs, beaten
60ml Semi Skimmed Milk
Pinch Salt
Find your ingredients online on Click & Collect or find your nearest store using our Store Finder.
Method
Preheat the oven to 180°C/350°F/Gas Mark 4.
Line the base of a 2lb loaf tin with greaseproof paper and grease the sides.
Cream together the sugar and butter.
Beat in the eggs and milk slowly.
Stir in the sieved flour and salt.
Add the sultanas and the walnut pieces and stir in gently.
Put the mixture into the prepared tin and bake for about 35/40 minutes, till the cake is firm and golden brown.