No bake thick white chocolate cheesecake topped with piped icing and chocolate stars.
White Chocolate Cheesecake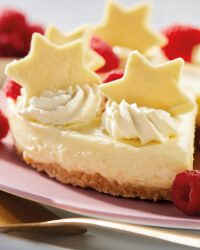 Recipe Information
Ingredients
100g Digestive Biscuits, crushed
40g Unsalted Butter, melted
250g Full Fat Cream Cheese
100g Caster Sugar
175g Moser Roth Fairtrade Madagascan Vanilla Chocolate
150g Double Cream
1 tsp Vanilla Extract
For the topping:
100g Double Cream
30g White Chocolate
1 tbsp Icing Sugar
Method
In a bowl, stir the melted butter into the crushed biscuits.
Press the mixture into the bottom of an 18cm round, loose based cake tin and refrigerate for 30 minutes.
In the meantime, melt the 175g white chocolate in a heatproof bowl in the microwave and leave to cool.
Whisk the double cream until firm peaks form, then add the cooled white chocolate, whisking until well combined.
Add the caster sugar, cream cheese and vanilla to the whipped cream mix. Whisk until the mixture thickens and resembles a rich mousse.
Spread the cheesecake filling over the biscuit base and refrigerate for 2-4 hours.
Melt the 30g white chocolate and transfer to a piping bag. Pipe several chocolate hearts onto a sheet of greaseproof paper. Leave to set.
Whisk together the double cream and icing sugar until firm peaks form. Transfer the mixture to a piping bag fitted with a star nozzle. Pipe rosettes of cream on top of the cheesecake and top with the chocolate hearts. Keep refrigerated and enjoy within 2 days.