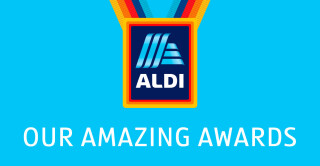 Award-winning quality and value at Aldi
When you shop at Aldi, you're guaranteed to find great value and quality across every range. That's because we work hard to deliver the highest standards for our customers and we're proud to keep collecting awards to back up our promises, like Best Grocer 2019 and Best Own Brand Range/Product 2019 at the Retail Week Awards, Gold at The Mother & Baby Awards 2019, and Gold at The Spirits Masters, Rum and Cachaça Masters 2019. Check out the other amazing awards we've taken home over the years below.
Retail Week Awards
The Retail Week Awards recognise the industry's best performers every year. This year, they've given Aldi the Best Grocer 2019 award and the best Own Brand Range/Product 2019 award too. Two big wins we're so proud to add to our collection.
The awards we've won
Here are some of the awards and accreditations we've picked up over the years thanks to our amazing customers and industry organisations. We're so grateful for them all and hope to add more to the collection very soon.