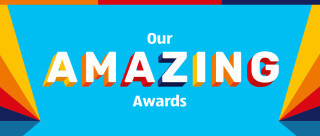 Check out the latest wins we've bagged
If you shop at Aldi every week, you'll be used to seeing our award-winning ranges in store. If you're new to Aldi, you might be amazed at how many times we've brought home the big prizes, like Good Housekeeping readers' Favourite Supermarket, Favourite Wine Retailer and Favourite Premium Supermarket awards. Then there's awards like the IWSC Wine Supermarket of the Year award, People's Choice Wine Award 2021 and many others you can see below. Take a look and judge for yourself in store.
Win win win
Thank you to Good Housekeeping readers for naming us as their Favourite Supermarket and Favourite Wine Retailer for the 3rd year running. And a special thanks for picking our Specially Selected range as your Favourite Premium Range 2 years in a row.
A few more awards you might like
Thanks to you, our amazing customers, and industry organisations, we've picked up lots and lots of fantastic awards and accreditations over the years. We really do appreciate every single one and we'd like to think they'll keep coming. Fingers crossed!
Good Housekeeping Institute Taste Approved 2021

GHI Food Awards 2021 Favourite Supermarket Retailer

GHI Food Awards 2021 Favourite Wine Retailer

GHI Food Awards 2021 Favourite Premium Supermarket Range
IWSC Trophy Wine Supermarket of the Year 2021

People's Choice Wine Awards 2021 Winner - Fire up the BBQ

International Spirits Challenge 2021 Silver

Rum & Cahaca Masters 2021 Gold
Drinks Retailing Awards 2021 Multiple Wine Retailer of the Year

Loved By Parents Supermarket of the Year Platinum 2021

Loved By Parents Best Online Retailer Platinum 2021

Loved By Parents Best Family Brand Platinum 2021
Loved By Parents Tried & Tested 2021 Recommended

Retail Week Own Brand Range/Product 2019 Mamia

Great Taste Awards 2020 1, 2 & 3 Stars

Moneywise Home Finances Awards Best Value Supermarket 2019
Loved By Parents Awards 2020 Supermarket of the Year

Made for Mums Awards 2020 Gold, Silver, Bronze & Editor's Choice

Mother & Baby Awards Gold for Nappy Range

Global Masters Rioja 2020 Gold
World Whisky Awards 2020 Gold & Highly Commended

London Wine Challenge 2020 Silver

The Global Riesling Masters Silver 2020

The Gin Masters 2020 Silver
World Gin Awards Silver 2020

World Vodka Awards 2020 Silver

International Spirits Challenge 2020 Bronze

FPC Fresh Awards 2019 Multiple Floral Retailer of the Year 2019
Quality Food Awards Christmas Retailer of the Year

IWSC Northern Hemisphere Awards 2019 Gold, Silver, Commended

International Cheese Awards 2019 Gold, Silver, Bronze

Retail Industry Awards 2019 Drinks Retailer of the Year