Packed full of flavour, these chicken fajitas are perfect for the whole family or to share with friends.
Chicken Fajitas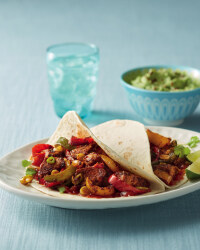 Recipe Information
Ingredients
1 375g pack British Diced Chicken
½ of each red, green and yellow peppers
½ bunch Spring Onions
1 475g pack Fiesta Fajita Dinner Kit
1 ripe Avocado
Juice 1 Lime
½ tsp Stonemill Chilli Flakes
2 dsp low fat yogurt
A little Sunflower Oil
Find your ingredients online on Click & Collect or find your nearest store using our Store Finder.
Method
Preheat the oven to 200⁰C/400⁰F/Gas Mark 6.
Thinly slice the peppers discarding any white pith and seeds.
Wash, trim and thinly slice the spring onions.
Put all the above into a large bowl, with the chicken, add half the lime juice and mix together.
Sprinkle over the fajita seasoning from the kit and mix well.
Lightly grease a large baking tray.
Spread the chicken and vegetable mix over the tray.
Bake in the oven for 15 minutes.
Meanwhile make the avocado dip.
Cut the avocado in half lengthways, remove the stone and scoop out the flesh.
Put the avocado into a bowl, mash the flesh with a fork then add the yogurt, the rest of the lime juice and the chilli flakes then mix well.
Warm the tortillas in the oven.
To make up the fajitas put some of the salsa from the kit on each tortilla, then add some of the chicken and vegetables.
Roll up and serve alongside the avocado dip.
Aldi Wine Matches
Looking for the perfect wine match for this recipe? See below for our dedicated recommendations:
Lot Series 05 Leyda Sauvignon Blanc
Lot Series 07 Bushvine Chenin Blanc
Lot Series 12 Anjou Chenin Blanc