Luxurious and indulgent, these nutty treats are a delicious idea for parties.
Chocolate Peanut Butter Brownies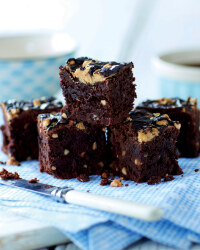 Recipe Information
Ingredients
For the Brownie:
150g Salted butter
100g Everyday Essentials dark chocolate
100g Everyday Essentials milk chocolate
200g Caster sugar
3 Eggs
200g Self-raising flour
For the Topping:
100g Everyday essentials milk chocolate
65g Salted butter at room temperature
125g Smooth peanut butter
1 handful Honey roasted peanuts
Find your ingredients online on Click & Collect or find your nearest store using our Store Finder.
Method
Preheat the oven to 180°C/350°F/Gas Mark 4.
Grease a 25cm square tin.
Melt the milk and dark chocolate and butter together in a bowl over a pan of simmering water.
Stir in the sugar and add the eggs 1 at a time.
Add the flour and mix to a batter.
Pour into the greased tin and bake in the oven for 15-18 minutes for a gooey brownie or 20-22 minutes for a more cakey brownie.
Allow the brownie to cool in the pan.
To make the ganache, gently melt the chocolate over simmering water.
Remove from the heat and whisk in the butter then add the peanut butter and whisk into a smooth consistency, spread the ganache over the cooled brownie and sprinkle over the peanuts.
Chill in the fridge for 1 hour before cutting and serving