Step away from the tonic and experiment with our gin and elderflower cocktail, perfect for summer evenings.
Gin Raspberry Fizz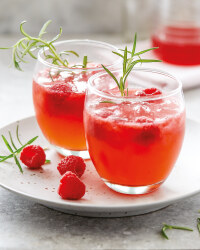 Recipe Information
Ingredients
130g Fresh Scottish Raspberries
Juice ½ Lemon
60ml Gin
120ml Sparkling Elderflower Water
2 Rosemary sprigs
Method
Mash 125g raspberries and lemon juice together – then put through a sieve to remove the seeds.
Mix the gin and raspberry purée together and divide between 2 coupe glasses.
Top up with the elderflower water and add the rosemary sprigs.
Add the remaining raspberries and serve.
For a longer drink serve in a tall glass with ice cubes.