Tender gammon, slow cooked to perfection in tangy Vive ginger ale. Great for family dinners.
Gingered Gammon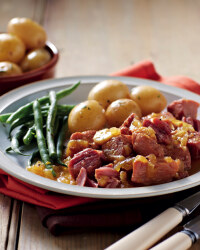 Recipe Information
Ingredients
1.3kg Ashfield Farm Gammon Joint
1 litre Vive Ginger ale
2 x medium onions - peeled and thinly sliced
3 x cloves garlic - peeled and halved
1 x heaped teaspoon Stonemills coarse ground black peppercorns
Method
Cut the gammon into medium chunks and rinse in some cold water, drain and pat dry.
Put all the ingredients into the slow cooker.
Cook as instructions on your slow cooker.
Approx 4/6 hours on high or 8/ 10hours on low.