Satisfy your spice craving with this tasty Indian starter using cucumber and aubergine served with raita.
Indian Aubergine Skewers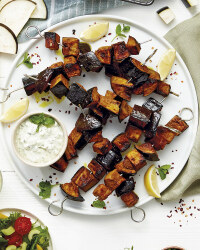 Recipe Information
Ingredients
2 Aubergines
150ml Rapeseed Oil
2 tsp Curry Powder
2 tsp Turmeric
1 tsp Crushed Chillies
⅓ Cucumber, finely chopped
160g Greek Yogurt
Juice of 1 Lime
1 tsp Mint Sauce
15g Fresh Coriander, chopped
Sea Salt and Black Pepper
8 Metal or Bamboo Skewers
Method
Cut the aubergines into medium-sized chunks.
Mix together the oil, curry powder, turmeric and crushed chillies in a large bowl and season.
Add the aubergine chunks and mix well.
Allow to rest for at least an hour, then divide the chunks between the skewers.
Pre-heat the grill to high and cook for 15 minutes, turning as you cook.
Mix the cucumber with the lime juice, yogurt and mint sauce.
Serve the skewers, alongside the cucumber raita and sprinkle over the coriander.