Half leg of lamb cooked with homemade Indian marinade.
Indian Spiced Lamb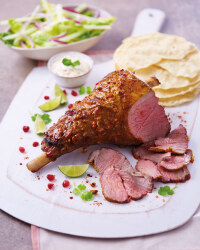 Recipe Information
Ingredients
1 x half leg of lamb
80g Greek yogurt
15g piece fresh ginger
1 x small red chilli about 9gm
1 x flat teaspoon ground cumin
1 x flat teaspoon turmeric
1 x flat teaspoon paprika
2 x cloves garlic
Juice ½ lemon
Sea salt and black pepper
Method
Heat the oven to 190°C/170C fan/gas 5
Peel the garlic and the ginger.
Finely chop them and put into a bowl.
Add the yoghurt, lemon juice, paprika, turmeric and cumin.
Finely chop the chilli along with the seeds and add to the mix.
Season with a little salt and black pepper and mix well.
Make some cuts in the top of the lamb.
Rub the paste over the top of the lamb and into the cuts.
Put the lamb into a roasting dish.
Pour some water in the bottom of the dish- just enough to cover the base of the tin.
Cover the lamb loosely with some tin foil – roast in the oven for 120 mins.
Top the water up in the bottom of the roasting dish as you're roasting – this helps to steam and roast the lamb at the same time.
Take the lamb out of the oven – cover with another piece of tin foil and allow the lamb to rest for 15 mins before carving.